VLTM in Wordfast Pro
To use the VLTM in Wordfast Pro:
First verify that a VLTM for your language pair exists. The available language pairs are: CS>EN, DA>EN, DE>EN, DE>FR, EL>EN, EN>AR, EN>CS, EN>DA, EN>DE, EN>EL, EN>ES, EN>FI, EN>FR, EN>HE, EN>HU, EN>IT, EN>JA, EN>NL, EN>NO, EN>PL, EN>PT, EN>RU, EN>SV, EN>ZT, ES>EN, FI>EN, FR>EN, FR>ES, HE>EN, HU>EN, IT>EN, JA>EN, NL>DE, NL>EN, NO>EN, PL>EN, PT>EN, RU>EN, SK>EN, SV>EN, ZT>EN.
Translation Memory > New/Select TM > TM list > Add TM > click on the "GLTM" tab
Copy and paste the following link into the URL field: wf://SS>TT@207.223.244.237:31415/
Replace the SS>TT with your respective source and target language codes (e.g. EN>AR - EN is the English language code, and AR is the target language code. Other language codes include DE for German, FR for French, IT, for Italian, JA for Japanese, etc.).
Click on the "Test..." button.
Click on "OK".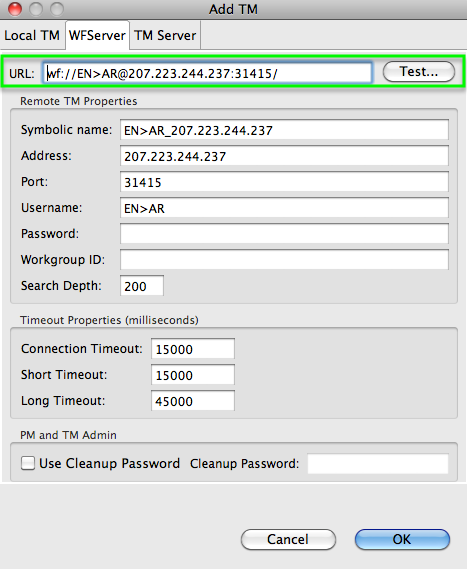 You can eventually change the symbolic name to something else if you want (e.g. VLTM_EN<AR).