Installing WFC (MS Word 2000, XP & 2003 for Windows)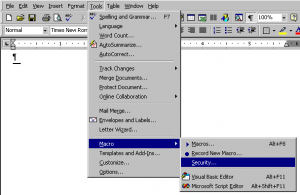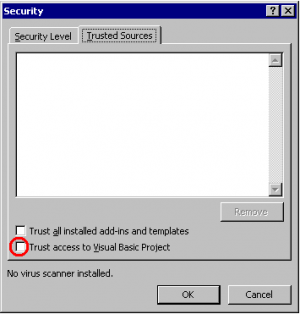 These instructions are those who want to install Wordfast Classic in MS Word 2000, XP[1] or 2003 for Windows. If you want to install Wordfast Classic in a different MS Word version, see How to install Wordfast Classic. If you want to install Wordfast Pro, see this page.
There are two steps to installation of Wordfast Classic into MS Word 2000, XP, or 2003:[2]
Adjust settings in Word
Install Wordfast Classic in Word
Important note to Word XP: Before you install Wordfast Classic, you must install MS Office XP Service Pack 1 (or any newer service pack). Word XP without any service pack will cause lots of issues.
Adjust settings in Word
Go to the Tools menu in Word and access Macro / Security (see Image 1).
Make sure the selected security level does not block digitally signed macros.
If there is a Trusted sources pane, access it, and check the Trust access to Visual Basic project box (see Image 2).
Close Ms-Word.
Download and install Classic
Download the Wordfast Classic installation package and unzip (extract) it.
Double-click the wordfast.dot file. A message about macros in wordfast.dot may appear. If there is a Trust documents from this publisher box, check it. Click Allow macros.
Wordfast Classic installation will start automatically or you will be prompted to press a keyboard shortcut to start it.
The installation is completed within seconds and a congratulation message is displayed. When you confirm the message, MS Word is restarted and Wordfast Classic is ready to work.
References
↑ Word XP is sometimes also referred to as Word 2002.
↑ Watch this presentation, illustrating the steps.