User Account Control

User Account Control (UAC) is a security-related feature in Windows Vista and newer Windows versions.[1] It limits application to standard user rights, unless these are customised. Under some circumstances (not very common, though), this can prevent Wordfast Classic from creating or changing files in certain folders, which can block Wordfast Classic installation or some actions.
If you run Windows Vista (or a newer Windows version) and you have have problems installing, licensing, or using Wordfast, try turning off UAC. This could help you avoid such problems.
Instructions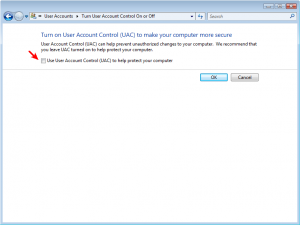 To turn UAC on/off in Windows Vista[2] go to the Windows Control Panel, access User Accounts and click Turn User Account Control on or off, as shown on Image 1.
Activate or deactivate the Use User Account Control (UAC) to help protect your computer, as shown on Image 2.
Finally, restart your computer.
References