Difference between revisions of "Translating WordPress XLIFF files in Wordfast Pro"
---
Revision as of 20:58, 14 April 2021
There are two steps to translate Wordpress (WP) XLIFF files in Wordfast Pro 5.
Update the XLIFF filter settings
Before creating your project, open preferences from the Project List view.
Scroll down to the section New Project Preferences > Filters.
Select the XLIFF (*.xliff) filter, then under Format Settings below, tick the box Lock html tags and entities.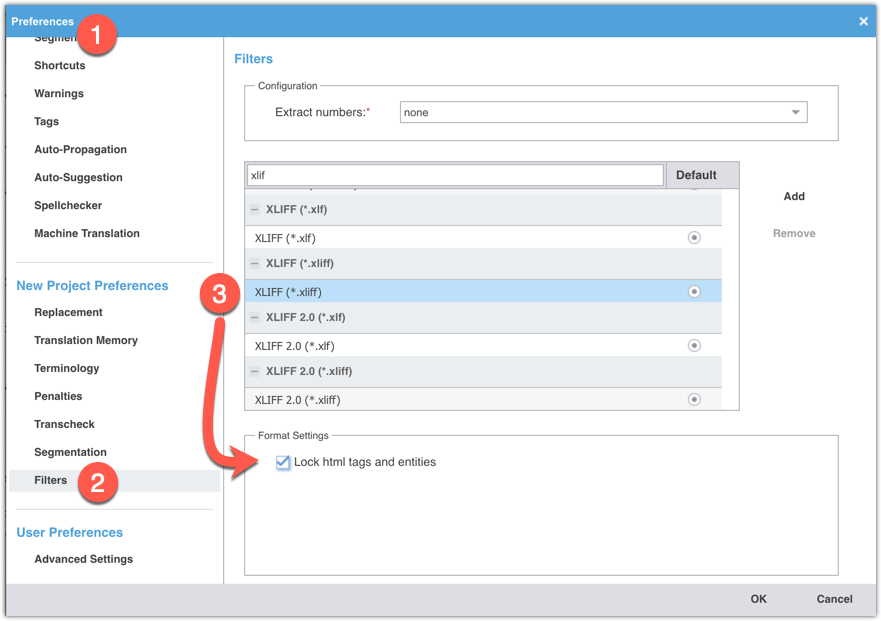 Create your project
From the Project List view, click on Create Project.
Add the Xliff file(s) and Wordfast should automatically detect the languages.
Choose the Xliff filter (not the Xliff 2.0).
Name your project, verify the location you will save it to, and your source and target languages.
Create or add TMs, glossaries, or blacklists as necessary.
Complete the project wizard as usual to finish.
---
Version: Wordfast Pro 5.19
Operating System: macOS
Updated by John 14 October 2020