Office 2010 Click-to-Run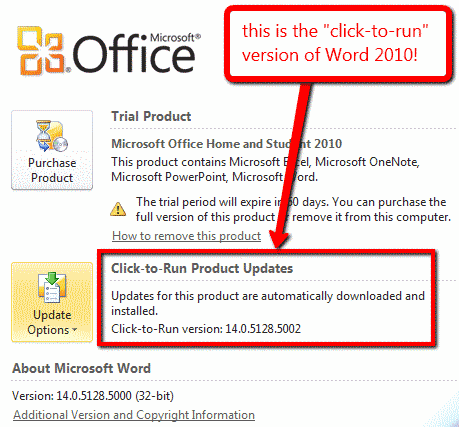 Click-to-Run is a special Office 2010 installation method.[1] You install only the core of Office 2010 and then it downloads other features from Microsoft servers when needed as you work.
Microsoft Word Add-Ins, such as Wordfast Classic, may malfunction or fail to work in Click-to-Run installations of Word 2010.[2] If you want to use Wordfast Classic in Word 2010, make sure you install Word 2010 the traditional way, not the click-to-run way. Wordfast Classic was reported to crash in click-to-run Word 2010.
Note that Click-to-Run is not an MS Office edition: it's a decision you make at download time. So regardless of the edition you end up buying, make sure you download the full-fledged thing, not the smaller Click-to-Run version.
If you are not sure whether your Office 2010 installation is click-to-run, go to File / Help menu in Word 2010 and see if there's any reference to Click-to-Run.
If your Word 2010 installation is Click-to-Run, uninstall it from your computer, download the full (MSI-based) installation from Microsoft and install it.[3] When you have the full installation of Word 2010 on your computer, you can install Wordfast Classic in it.
References