Copy Tags from Source Segments
Click on the Copy Tag icon under the Translation tab (or use the shortcut keys option + command + down) to copy one tag at a time from the source segment, starting with the first selected tag which is colored red. Once copied, the next tag in the segment will be automatically selected and colored red. To select and copy tags in a different order, use the Next Tag or Previous Tag icons (or their assigned shortcut keys) under the Translation tab.
To copy all tags at once, use the Copy All Tags icon (option + a) under the Edit tab.
If the shortcuts mentioned above do not work for you, it might be because they are associated with different keyboard keys. Check out Assign or Reassign Shortcut Keys to learn what the keys are and how to change the associated keyboard keys.

Note:
The tag icons are located to the far right of the Translation tab and therefore do not appear on smaller screens. They are minimized into the icon at the far right with four horizontal gray bars.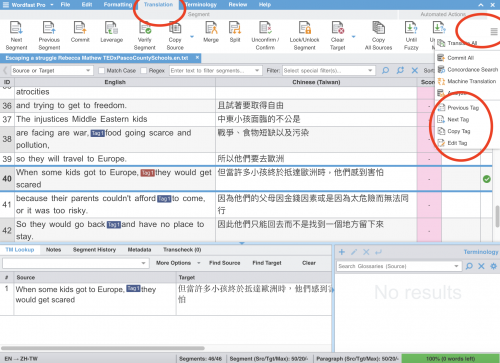 ---
Version: Wordfast Pro 5.7
Operating System: macOS

Updated by Byron, 10 January 2019