Difference between revisions of "Concordance Search in Wordfast Pro"
---
Revision as of 11:10, 7 April 2021
---
Performing a Concordance Search
Concordance Search in Wordfast Pro 5 helps you make better use of translation units already stored in the TM. This feature is used when you do not have a fuzzy match from the TM or terminology suggestion, but you think the term(s) may have been translated in the past and could be in the TM.
While translating, (1) select a word or phrase from the source/target text and (2) click on the Concordance Search icon under the Translation tab or use the shortcut key F8 (Fn+F8 on a Mac). You can also type the word/phrase directly in the dropdown box of the TM Lookup tab at the bottom of your screen, then click on the Find Source or Find Target button. On the TM Lookup pane, you can click on More Options to make your search case sensitive or to search for an exact phrase.
No matter how you perform your concordance search, you will (3) see a list of results appear in the TM Lookup pane.
You can go to Wordfast Pro > Preferences > Current Project Preferences > Translation Memory and modify the number of results you will see in the TU Lookup pane (TM Lookup settings section).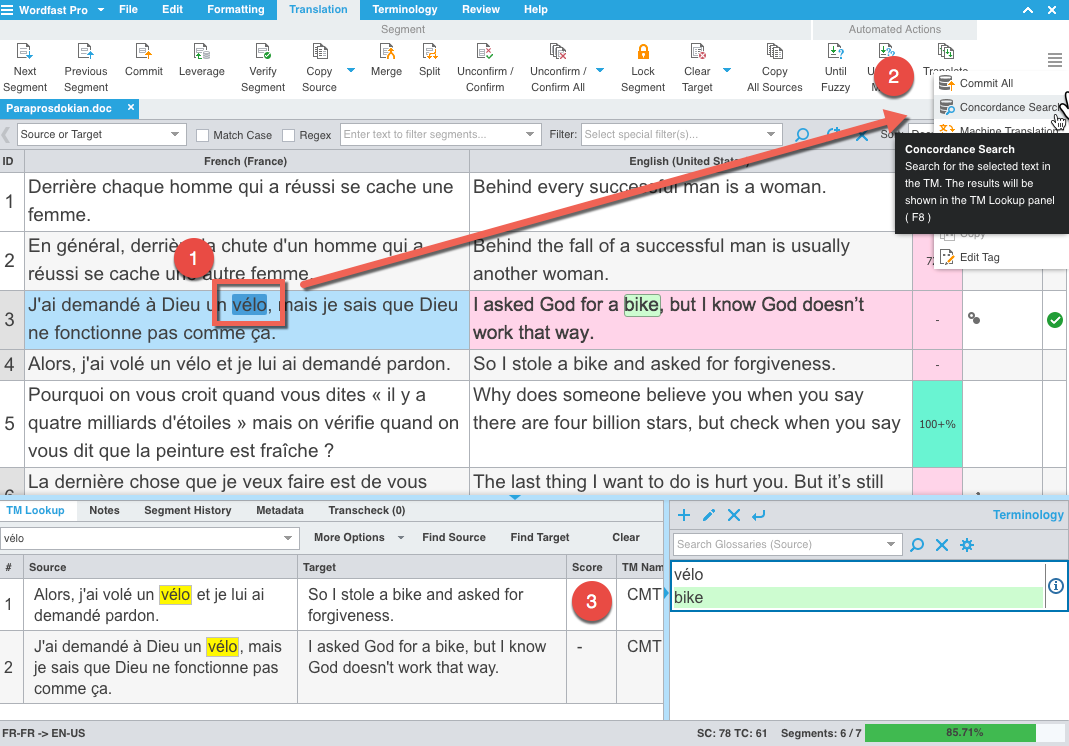 Inserting results of a Concordance Search
You can double click on the result you like to insert the entire translation unit into the currently open target cell. You can also select one or several words and then press the shortcut key combination Alt+F12 (Fn+Alt+F12 on Mac and some PCs) to insert the selected text at the end of the currently opened target cell.

--John 09:08, 18 April 2017 (CEST)