Machine Translation in Wordfast Pro
Wordfast Pro (WFP) can send source segments to third-party, cloud-based Machine Translation (MT) sources, receive suggested MT translations, and make them available to the translator or use them to pre-translate documents. It can speed up translation work. WFP only connects to MT sources if you activate this feature in WFP Preferences.
To use Machine Translation in WFP, click on the Preferences icon, then go to Machine Translation under General Preferences and enable the MT providers you prefer.
WorldLingo is the only out-of-the-box free provider. You need to obtain an API to use the other ones (see links when you click on "Enable…").
The Microsoft Translator API is free for up to 2 million characters per month. Follow these instructions to get a your own API key. IMPORTANT: When creating your resource on Azure, make sure to choose "Central US" as your resource group region and "Global" as the resource region.
To use DeepL in Wordfast Pro, you need a paid DeepL plan. Note that DeepL offer two kinds of API keys – one is for web applications and the other one is for CAT tools such as Wordfast. Please make sure you are using the right key. If you are not sure about this, please consult the DeepL team.
Using Custom MT at the bottom of the options, you can instruct Wordfast Pro to connect even to MT sources that are not supported by default. For example, you can connect to Modern MT.
Tick the option "Allow all unedited segments in active document to be leveraged with MT" to use MT when there is no TM match. Your primary MT result will be automatically leveraged in the target segment.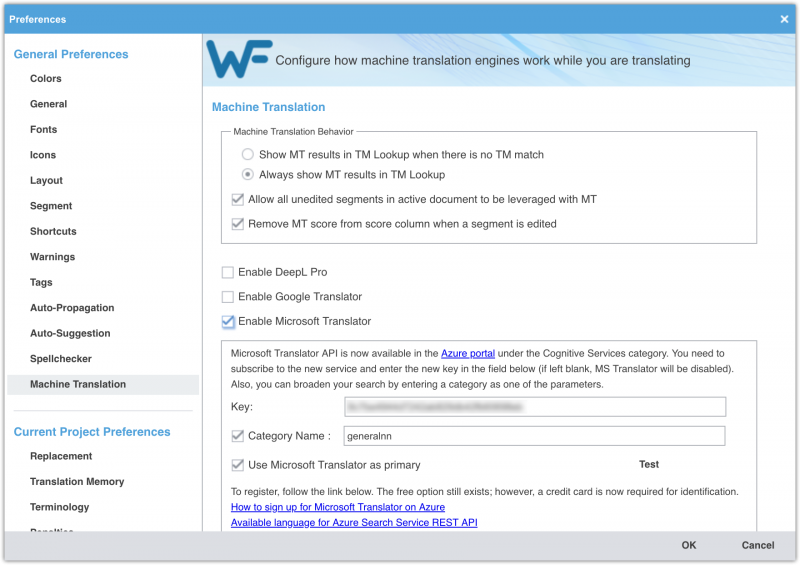 IMPORTANT: sometimes machine translated segments do not need to be edited, especially when they are very short. By default, Wordfast Pro will not commit unedited MT segments to your TM. If you want to commit these segments (recommended), make sure to update your new/current project preferences under the Translation Memory section. Tick the box next to Write 'unedited MT' to TM to commit these perfectly good segments.