Difference between revisions of "Clean-up of Segmented Files in WFC"
---
Latest revision as of 21:04, 28 July 2012
To clean up your translated (segmented/unclean) document means to remove the source text as well as the delimiters. The simplest way is to use Wordfast Classic toolbar button "Quick Clean-up". However, it is good to know that there are three methods for cleaning up a document depending on whether you want to update the currently active TM or not.
1- Quick Clean-up
It is to omit everything except the translation; it deletes the source text as well as the delimiters and keeps only the target text. On Wordfast toolbar, click on the third right button.

2- Clean-up Tool
Another way for cleaning up is opening the "Tools" tab and clicking "Clean-up".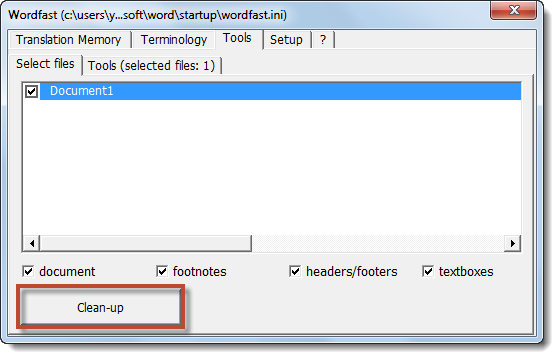 This way is useful for updating the TM.
If you edited some segments while they are closed, i.e. without using Alt+Down to move between segments, your TM will not be updated with the new modifications. So, you need to use (Tools > Clean-up) and answer affirmatively to the message asking if you want to update the TM.
Moreover, you can use this way of Clean-up to create a TM from un-clean (segmented) translated files, if you do not have the TM.
To select several (segmented) files to clean up at the same time, you can use one of the following ways:
Open all those files in MS Word and make sure they are selected in "Tools" tab.
Another way is to close any open MS Word document (even the default empty document). When you open the "Tools" tab, you will find a "Browse" button that you can use to locate the folder including the files you need to add to the Clean-up process.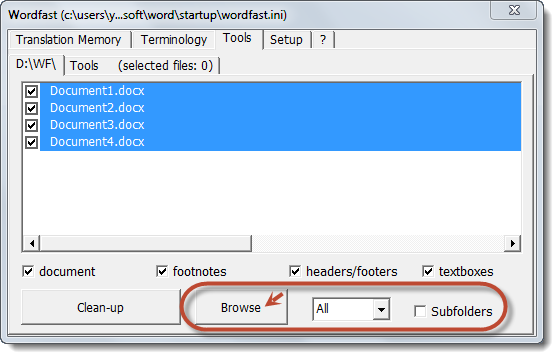 3- Update TM only
You can activate the PB command: UpdateWithQuickClean to change the function of the Wordfast toolbar button "Quick Clean-up". Now, when you click on the third right button "Quick Clean-up", the TM will be updated with the translated segments in the currently open un-clean file, but the file will NOT be cleaned up.
According the Wordfast Classic manual, "Before a Quick-clean operation, you will be asked if you just want to update your TM, without cleaning-up. If you say no, you can go on and proceed with Quick-clean anyway, so the regular use of Quick-clean is not affected."